Hope & Anchor is quite possibly the best little local in Brisbane. Housed in a Heritage listed cottage that served as a bakery in Paddington in the late 1800's the venue, gives a nod to the British settlers that built the area which is reflected in the Pub style service and food and drink offerings.
We do require all group bookings 10 or greater on Friday or Saturday nights to choose from one of our set menu offerings which feature the most popular items from the menu as well as a few extra delights. We can accommodate most dietary requirements and the food is aplenty.
There are three areas suitable for large group bookings or functions, each offering something charmingly different.
*Please note bookings are limited to a period of 2 hours*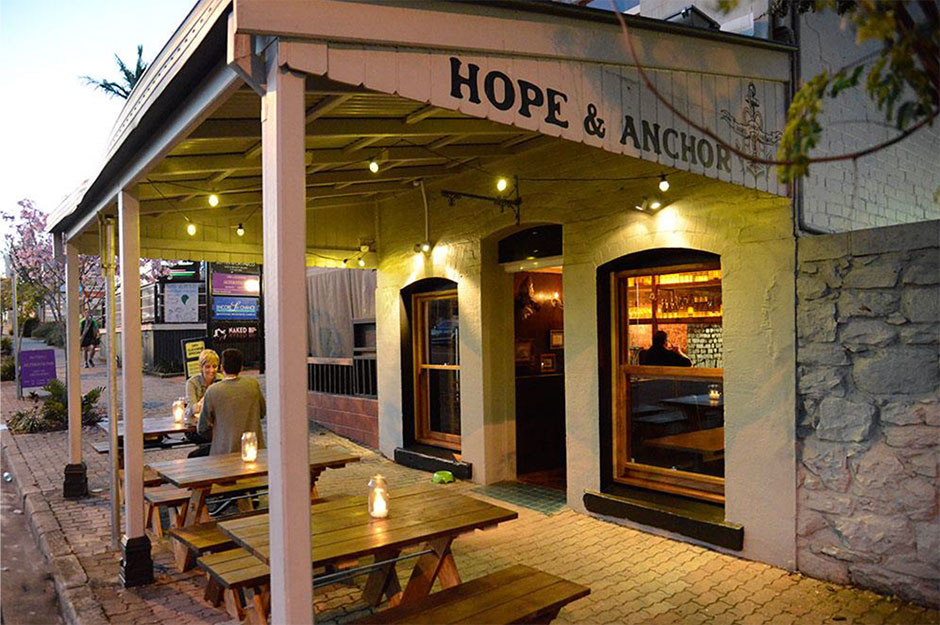 The Courtyard
The ceiling drips with a hanging garden and copper spun lights cast off a glowing hue onto the original working brick fireplace – the Courtyard is a great spot for Lunch or Dinner.
Seats - 40 max.
*Due to COVID-19 Restrictions our current capacity is 25 max*

The First Floor
Consisting of four six-seater booths and two small tables, the room is lined with Vintage British Wallpaper, maritime artwork
and the odd pheasant or two. Suited best for exclusive bookings for up to 28 guests, however we can
accommodate a single group up to 12 in size
Seats -28 Max
*Due to COVID-19 Restrictions our current capacity is 14 max*

The Captain's Attic
For something a little more intimate, the Captain's Attic offers an almost self-contained experience.
Minimum 6 guests
Maximum 12 guests
*Due to COVID-19 Restrictions our current capacity is 4 max*