The Hope & Anchor is quite possibly the best little local in Brisbane. Housed in a Heritage listed cottage that served as a bakery in Paddington in the late 1800's the venue, gives a nod to the British settlers that built the area which is reflected in the Pub style service and food and drink offerings. We do require all group bookings 10 or greater on Friday or Saturday nights to choose from one of our set menu offerings which feature the most popular items from the menu as well as a few extra delights. We can accommodate most dietary requirements and the food is aplenty.
There are three areas suitable for large group bookings or functions, each offering something charmingly different.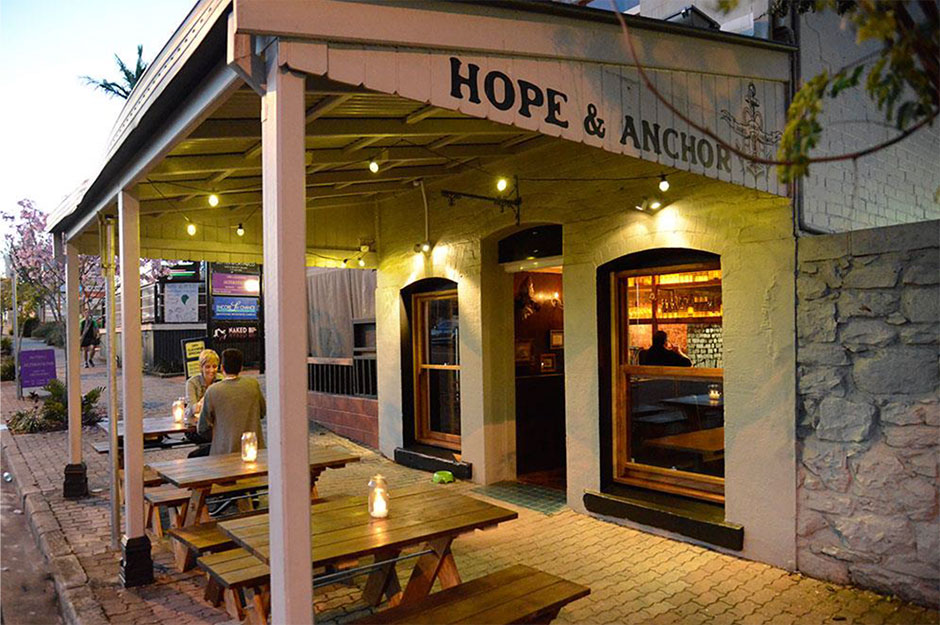 THE CONSERVATORY
The ceiling drips with a hanging garden and copper spun lights cast off a glowing hue onto the original working brick fireplace – the Conservatory is a great spot for Lunch or Dinner.
Seats - 40 Max.

THE FIRST FLOOR
Consisting of four six-seater booths and two small tables, the room is lined with Vintage British Wallpaper, maritime artwork
and the odd pheasant or two. Suited best for exclusive bookings for up to 28 guests, however we can
accommodate a single group up to 12 in size
Seats -28 Max

THE ATTIC
For something a little more intimate, the Attic offers an almost self-contained experience - Pre-select your wines – we stock the fridge with beer and wine and you pay for what you consume. A variety of Banquets are available. (See below)
Minimum 6 guests
Maximum 12 guests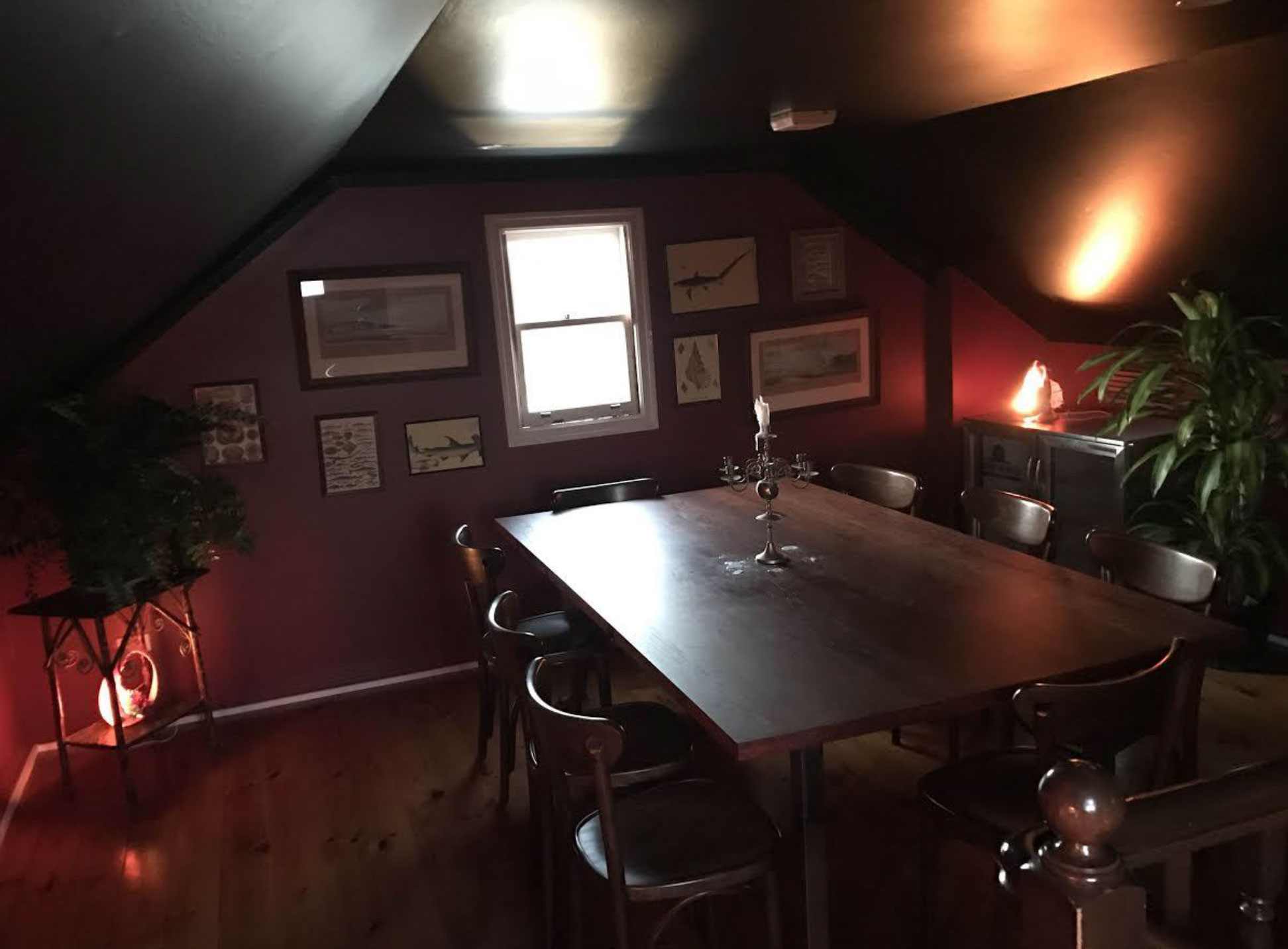 For those looking for something a little grander, The Hope & Anchor is available for exclusive bookings for a "house party" event. Canapes, Cocktails a DJ and three floors of fun. POA.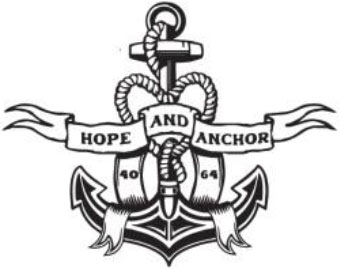 HOPE & ANCHOR CANAPÉ MENUS:
$30PP CANAPÉ FUNCTION:
PEAR AND GORGONZOLA MINI QUICHES
BRUSCHETTA OF TOMATO, BASIL, PARMESAN
BEETROOT & GOATS CHEESE ARANCINI
MEATBALLS w/ SPICY TOMATO SAUCE
PIGS IN BLANKETS w/ SPICED PLUM SAUCE
BEER BATTERED PICKLES w/ CHIPOTLE

$35PP CANAPÉ FUNCTION:
BRUSCHETTA OF TOMATO, BASIL, PARMESAN
PEAR AND GORGONZOLA MINI QUICHES
BEETROOT & GOATS CHEESE ARANCINI
CRISPY FRIED CALAMARI
MEATBALLS w/ SPICY TOMATO SAUCE
PIGS IN BLANKETS w/ SPICED PLUM SAUCE
BBQ PULLED PORK SLIDERS
CHICKEN SKEWERS w/ LEMON & ROSEMARY


$40PP CANAPÉ FUNCTION:
PEAR AND GORGONZOLA MINI QUICHES
BRUSCHETTA OF TOMATO, BASIL, PARMESAN
GIN CURED SALMON CRROSTINI
BEETROOT & GOATS CHEESE ARANCINI
BEER BATTERED PICKLES w/ CHIPOTLE
PIGS IN BLANKETS w/ SPICED PLUM SAUCE
BBQ PULLED PORK SLIDERS
CHICKEN SKEWERS w/ LEMON & ROSEMARY
LIME & CHILLI PRAWN SKEWERS
MEATBALLS w/ SPICY TOMATO SAUCE

HOPE & ANCHOR BANQUET MENUS:
$35PP AL A CARTE FUNCTION:
STARTERS:
BEETROOT ARANCINI w/ GOATS CHEESE, ANISE, BALSAMIC, BEETROOT JELLY
ROASTED CAULIFLOWER w/ CORIANDER YOGHURT, POMEGRANATE, ALMONDS, RAS EL HANOUT
MAINS:
PAN SEARED SALMON W/ FENNEL, ORANGE, BEURRE BLANC
ROASTED BREAST OF CHICKEN W/ BLACK GARLIC, MUSHROOMS, ASPARAGUS
SIDES:
CAULIFLOWER GRATIN
GREEN BEANS, ONION, ALMONDS
$45PP AL A CARTE FUNCTION:
STARTERS:
SEARED SCALLOPS W/ ARTICHOKE PUREE, PROSCUITTO, BEURRE NOISETTE
BEETROOT ARANCINI w/ GOATS CHEESE, ANISE, BALSAMIC, BEETROOT JELLY
ROASTED CAULIFLOWER w/ CORIANDER YOGHURT, POMEGRANATE, ALMONDS, RAS EL HANOUT
MAINS:
PAN SEARED SALMON W/ FENNEL, ORANGE, BEURRE BLANC
ROASTED BREAST OF CHICKEN W/ BLACK GARLIC, MUSHROOMS, ASPARAGUS
WILD MUSHROOMS W/ ASPARAGUS, WHITE POLENTA, CRUMBED HENS EGG
SIDES:
CAULIFLOWER GRATIN
GREEN BEANS, ONION, ALMONDS
DESSERTS:
CHEF'S DOUGHNUTS
BURNT HONEY YOGHURT SEMI FREDDO w/ MACADAMIA, CHARRED PEACH PUREE, SPICED CRUMB